Note: jLab is for blog posts about creative, fun, or interesting Jewish or congregation-related topics. To submit a post, you must be a member of our congregation, and the topic must be Jew-ish, related to our congregation or the wider Jewish community. If you have something to share, please submit it here.
---
Of Task Force Meetings, Protocol A, and the Covid Divorce
By Lea Haravon Collins
---
"Mom, Dad? Close your eyes…I have a surprise for you! Don't peek…" It was a humid, after-the-rain early evening in June. Jeremiah had just come home from one of his first gymnastics practices since March. Steve and I were on the front porch together (sort of together – I'll get to that later). We opened our eyes, with permission, to find an elastic string dangling from our son's fingers, attached to…an N95 mask. "My teammate's Dad is a carpenter and he had some extras," Jeremiah touted proudly.
The joy with which I received this surprise could only be matched by my disbelief that such a thing – a thing I had heretofore never heard of – could bring joy at all.
Like you dear reader, we are grappling with the Covid pandemic. Given that we have essentially no government guidance on best practices, we have developed our own. And when you live with a septuagenarian engineering professor and minor children, those best practices are exhibited in the form of daily family meetings, "Protocol A," and, sadly, the Covid Divorce.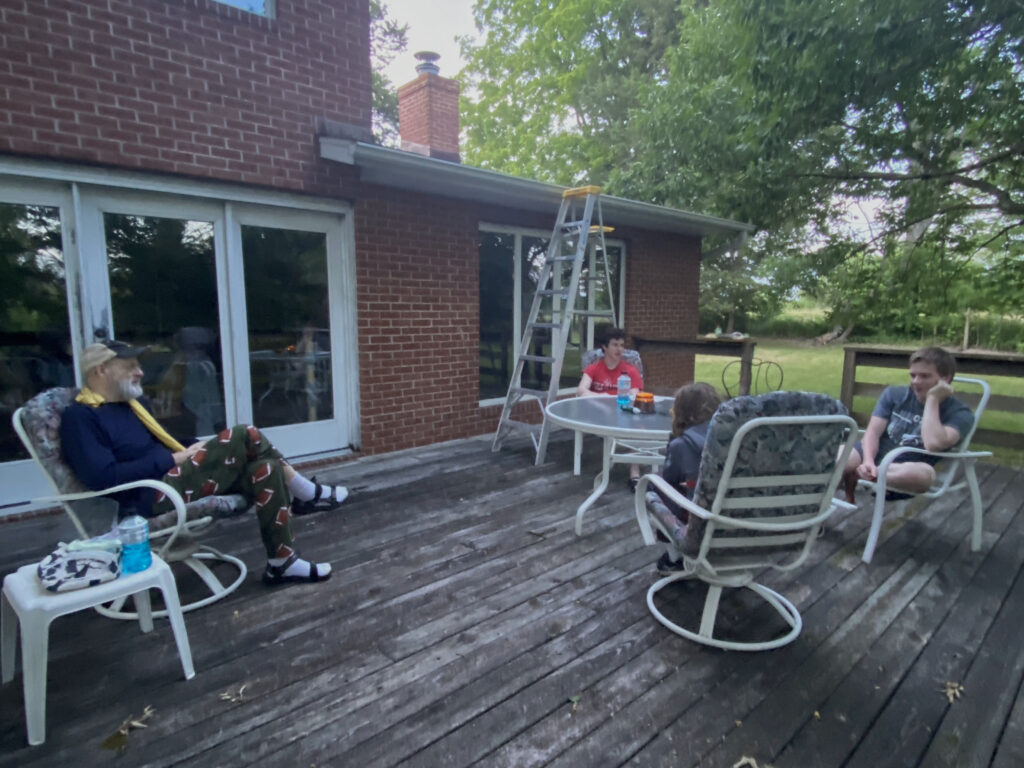 Phase I Team Collins Re-Opening Plan
Steve spent several weeks pondering the best way to both keep our family safe and let the kids start to follow the rest of the country and open up. He developed a "Phase I Team Collins Re-Opening Plan," presenting it to us in daily incremental briefings, at our Team Collins Coronavirus Task Force (TCCVTF) meetings which usually take place at 3pm around the kitchen table, no phones allowed (but with several clandestinely present). These meetings include international, national, local and feline news updates as well as discussions of family safety. All in attendance are excited to be there, and pay close attention to the briefings of the task force chair (as is evidenced here  ).
After much deliberation, Steve decided that our best option was for him to ensconce himself in our (previously shared) office for the foreseeable future. He would walk down a short hallway once a day to bathe. He would take his meals outdoors, staying six feet apart from all family members. He would sit on the porch and go for socially-distanced walks with us. Otherwise, he would live in that room.
We are now three weeks into this new arrangement. Steve's lunchtime trips to the front porch involve opening his window, climbing onto the eaves, army-crawling on the slanted roof, and descending a ladder at the other end of the house. While the kids and I questioned the safety (and sanity) of an old man (sorry Steve) loping around on a roof and scuttling down a ladder twice a day, we all knew better than to argue with him on this one. His mind was made up. That ladder, Steve's new conduit to daily meals, is now a fixture on our back deck.
On bad weather days, I open my bathroom window and place a tray of vittles on the eaves for Steve to fetch when the rain stops pounding or the wind stops blowing. On good weather days, before literally "coming down" for lunch, Steve will open his window and toss pillowcases full of dirty laundry and empty bottles onto our front lawn. While I try to retrieve these projectiles before the neighbors see them, I do not always succeed in drawing attention away from this new fair weather ritual at our home. It does not help that, before Steve tosses dirty-sock and bedding-filled bags onto our front lawn, he yells "fire in the hole." I'm not even kidding.
Covid Protocols
So: Steve is safe, at least physically (unless or until he falls off the roof). He will only see us outdoors wearing a face shield and mask, won't touch any of us and lives in a covid-free room. But what about our son Jeremiah, newly venturing into the potentially Corona-contaminated gym twenty hours a week? This is where Protocol A comes in.
"Protocol A," devised, of course, by Steve, is a detailed process for reentering the house with as little contamination as possible. It includes, but is not limited to the following:
Enter Garage – Go to your designated area
Take off all clothes except underwear
Put clothes in clean pillowcase
Step into house laundry room onto towel that you provided earlier that day
Clean doorknob inside and out or don't use it
Wash and dry hands with single-use towel
Take phone out of plastic bag
Throw away plastic bag
Clean phone
Put pillowcase in laundry- do not shake items
Shower
Protocol A is posted on our garage door. If you come over for a visit you will see it. But of course, you won't. Because by the time I can invite you over, we will have dispensed with the need for Protocol A.
And this leaves us with the final example of our pandemic best practices, the Covid Divorce. You've heard of the "Sleep Divorce" where couples slumber apart, placing their commitment to healthy sleep over coziness and togetherness? Well, a Covid Divorce separates Steve and me from each other because of the competing commitments of not getting Covid and, to keep this G-rated, sharing a room. Having separate bedrooms, while being an emotional bummer, has its advantages. For the first time since I was in my 20s, I have a room of my own, a door that I can close, and total quiet delicious privacy. Except of course when one of my children needs to shower; Steve has taken over the "good" bathroom, i.e. the one with a bath, so it is off limits to the rest of us.
It is a time of odd separation and togetherness in our family – physical separation and more solitude certainly, but a kind of togetherness engendered by uniting in difficult circumstances to achieve an important goal. We give up the short-term joys of sitting around a table and hugging every day for the long-term goal of Steve not dying of Covid. We gain purpose and team spirit and, as importantly, some very funny stories to share in the future, post-pandemic, when the ladder is back in the garage and our windows are opened, not for airing our dirty laundry or for serving meals on rainy days, but for fresh Covid-free air.