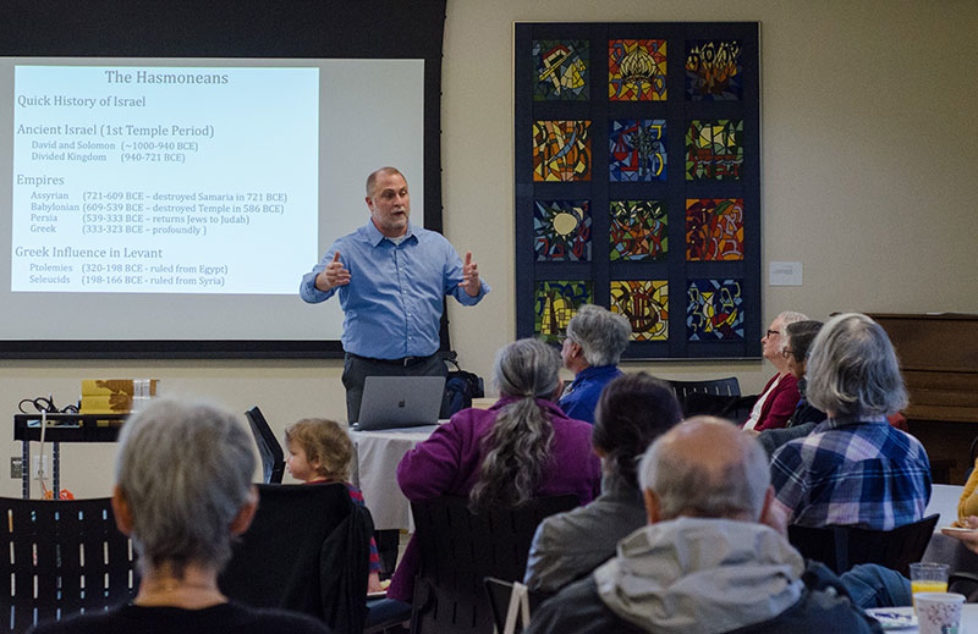 Oneg Shabbat Programs
About once a week a program of topical interest is presented after Shabbat services. Click here for the Oneg schedule.
Sunday Morning Shmoozes
Join us for our  weekly Sunday morning schmoozes at 10:30 am. Specific topics will be posted and coffee and cake are always available. Click here for the Adult Education  Program.
Adult Education Classes
| | | |
| --- | --- | --- |
| Talmud Study Group | Rabbi Jeff Portman | Sundays 8:30 am at the synagogue |
| Jewish Book Discussion | Rabbi Jeff Portman | Thursdays 8:30 am at the synagogue |
Check the calendar to confirm the times.
Mitch Levin's Torah Study Web Sites
Mitch Levin, a member of Agudas Achim and Temple Judah (Cedar Rapids), has two wonderful sites. One is a daily Jewish history site and the other is a commentary on the weekly Torah portion.
Jennifer Pavelich Clinton E-Library
Through the generosity of Bob Clinton and his partner Janette Silverman two online Judaic libraries are now available to members of Agudas Achim. In memory of Bob's daughter Jennifer, they have established the Jennifer Pavelch Clinton E-Library. This Judaic Digital Library has close to 200 adult titles and about 60 children's titles. Go to the Jennifer Pavelich Clinton E-Library and then to the login on the right. The User name is Agudas and the Password is Simcha2. Call the office for the Access code.
G-dcast
G-dcast is animating Torah for today! See quirky cartoons made out of classic Jewish texts. The weekly portion is featured by you can scroll through the entire Torah and watch 55 amazing guests give a 4 minute description of the portion of the week.
Torah Study USCJ
United Synagogue of Conservative Judaism Torah Study