Note: jLab is for blog posts about creative, fun, or interesting Jewish or congregation-related topics. To submit a post, you must be a member of our congregation, and the topic must be Jew-ish, related to our congregation or the wider Jewish community. If you have something to share, please submit it here.
---
Every two years, thousands of Reform Jews from all corners of the world gather at the Union for Reform Judaism's (URJ) Biennial. Last year between 5,000 to 7,000 people attended the Biennial at the McCormick Place Conference Center in Chicago. If you've never been at a meeting with this many Jewish people of all ages, then this is the event to look out for. For me this was a first, and this is my personal lookback report of a few highlights on jLab.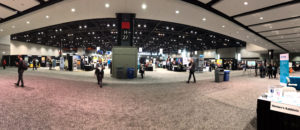 The 2019 Biennial was a Mid-Western event, so I drove with my family, kids and all, to Chicago. About five hours later, we were all cleared by Security and registered at the Registration Desk. With my lanyard in one hand and my baby daughter on the other arm, I was ready to jump into one of the many sessions.
A CONGREGATION ON DATA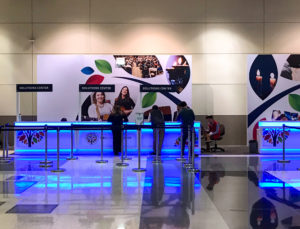 For those who know me, I crunch numbers and do statistics for fun in my spare time. So obviously had to know what data can do for congregations. There were two ways presented at the Biennial: one is by Benchmarking and the other by using a Congregation Relationship Managent System (CRM).
URJ offers a benchmarking tool for congregations for some time now. It's essentially a set of standardized surveys with performance metrics and the ability to compare your congregation with other URJ congregations. The speakers at the workshop panel shared their experience with benchmarking. They conducted a benchmark survey for their congregation and looked at the results for areas of improvement. They made an effort to improve these areas and conducted another benchmark survey. The results can be interesting: some were able to improve their Bnai Mitzvah retention rate by 22% while others were able to improve their membership engagement.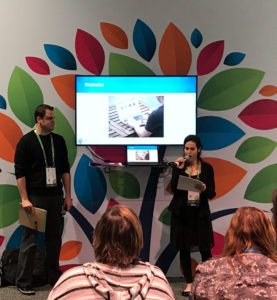 CRMs such as ShulCloud, templedoc or Congregation Connect can collect a wealth of data: from event participation, family, demographic to financial data. The workshop panel shared their Lessons Learned of their CRM data collection, although they did not share in detail their results. From my own experience with CRM-based data from a congregation, I know you can create a snapshot of the health of your congregation and create several forecasts. I will keep an eye on these developments of data-driven congregation management in URJ.
MEETING JOEL EMERMAN
Joel is the Congregational Websites Manager of URJ and our website is hosted on their platform. I know Joel from the URJ Social Media platform The Tent in which I participate on a regular basis. So it was nice to meet him face to face and talk about the future of the platform, improvements, and my feature wish list among other things.
All I can say now is URJ is working on a Marketplace where we will find tools such as RJ WebBuilder which we use to build and maintain this website. Also URJ will introduce a Image Repository where URJ congregations can upload and share their photos. I will keep you posted if these and other new features become available for our website.

SECURITY
Since last year, many URJ congregations have started to improve their safety situation, so there were many participants attending the workshop on Safety and Security. One of the speakers was Michael Masters, the new Director of the Secure Community Network, an initiative of the Jewish Federations of North America. I was inspired by the simplicity of  his approach towards security. Security should be sponsored by the senior leadership of a congregation; we should all be trained, and we need layers of security to buy ourselves time to get to safety. Simple messages in a complex world of safety and security.
How about our kids? Their highlight of the Biennial were the music sessions in the afternoon: Judy Silver, Nava Tehilah and of course Eliana Light, my daughter's favorite Rock Star.